MidiRig Pocket Sound Module
Works with any MIDI accordion
Designed to work with any MIDI accordion as a full sound module or just as a bass expander.  The standard 5 pin MIDI connector allows easy connection to existing systems.
Perfect integration with MidiRig systems
Directly connecting any of our accordion MIDI systems allows power to be drawn from the module without need of our usual power supply box.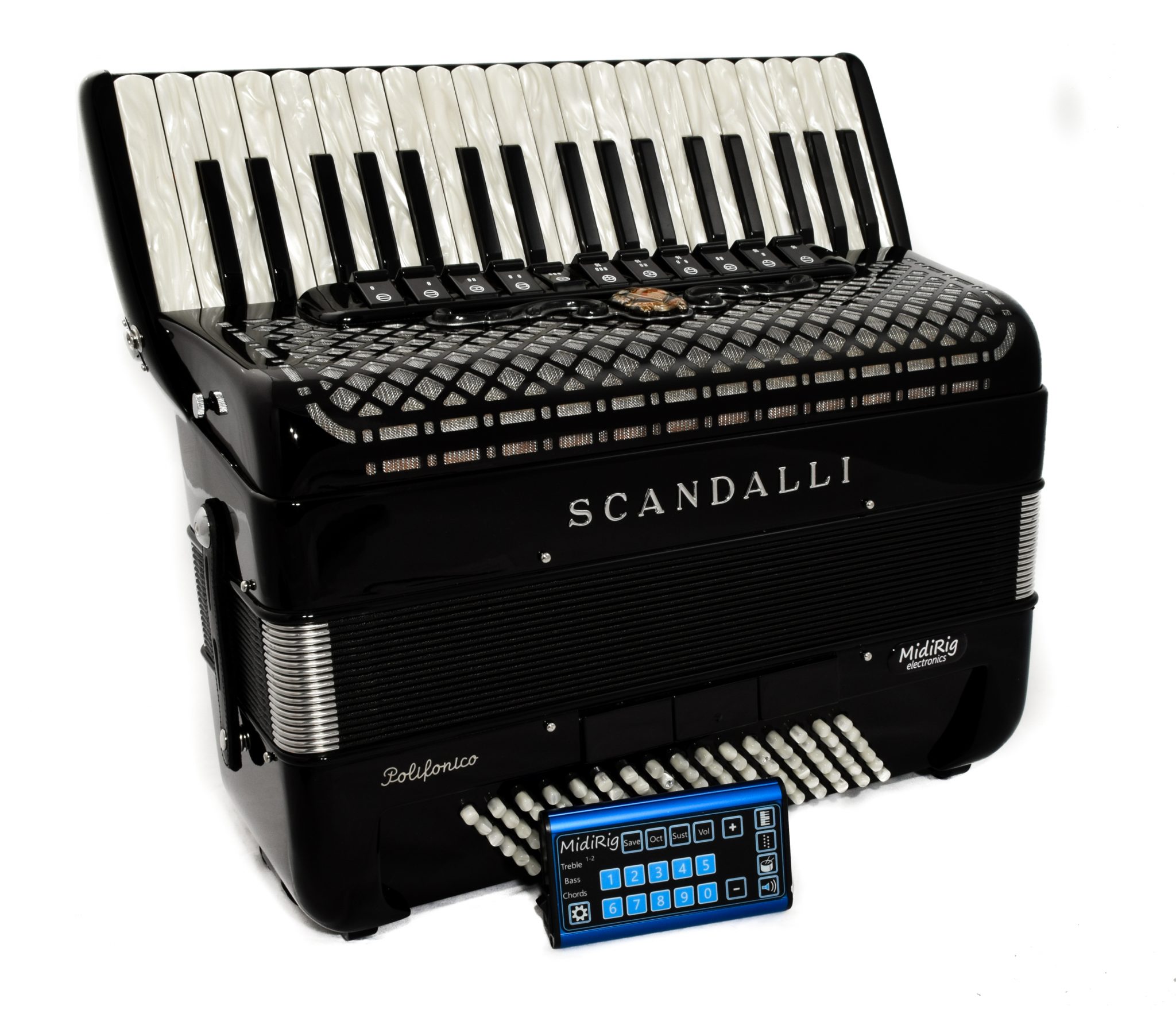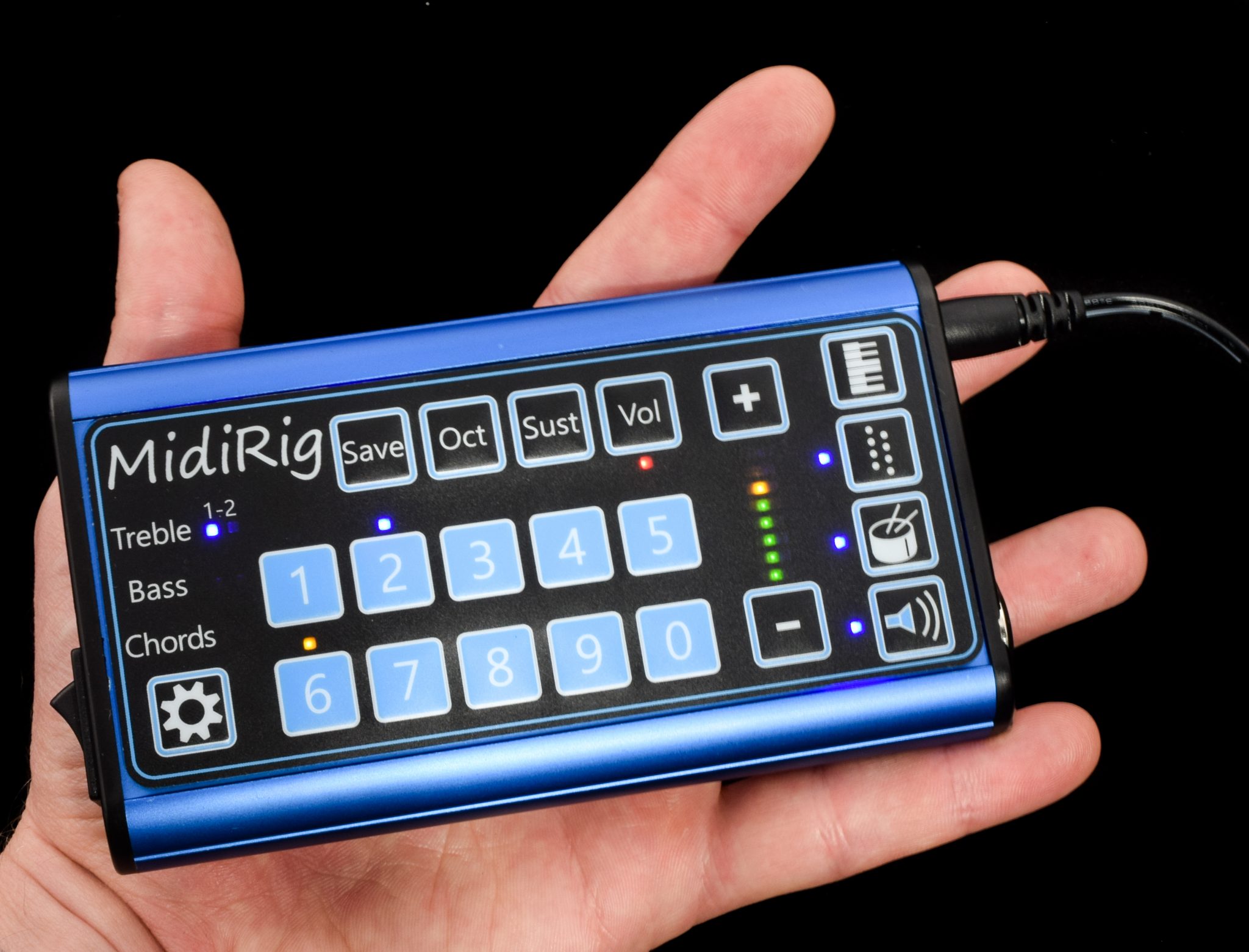 Super compact design
Our brilliantly small integrated design means this module will easily fit in any accordion case.  It is small enough to fit in your pocket!
Our Pocket Sound Module has been designed with accordion players in mind.  The very easy to use front panel allows straight-forward access to your 10 favourite presets while also allowing multiple options for customising sounds to suit your needs.
Built for players
Reliability and function has been our focus, and by using high grade components and integrated design the module is perfect for demanding stage performances or keeping the neighbours awake at home.
Instruments and effects
50 instrument sampled sounds can be chosen from and assigned to any of the 6 parts (treble1, treble2, bass1, bass2, chords1, chords2).  Individual volume, sustain and octave values can be set for each part.  All parts are saved to the preset of your choice.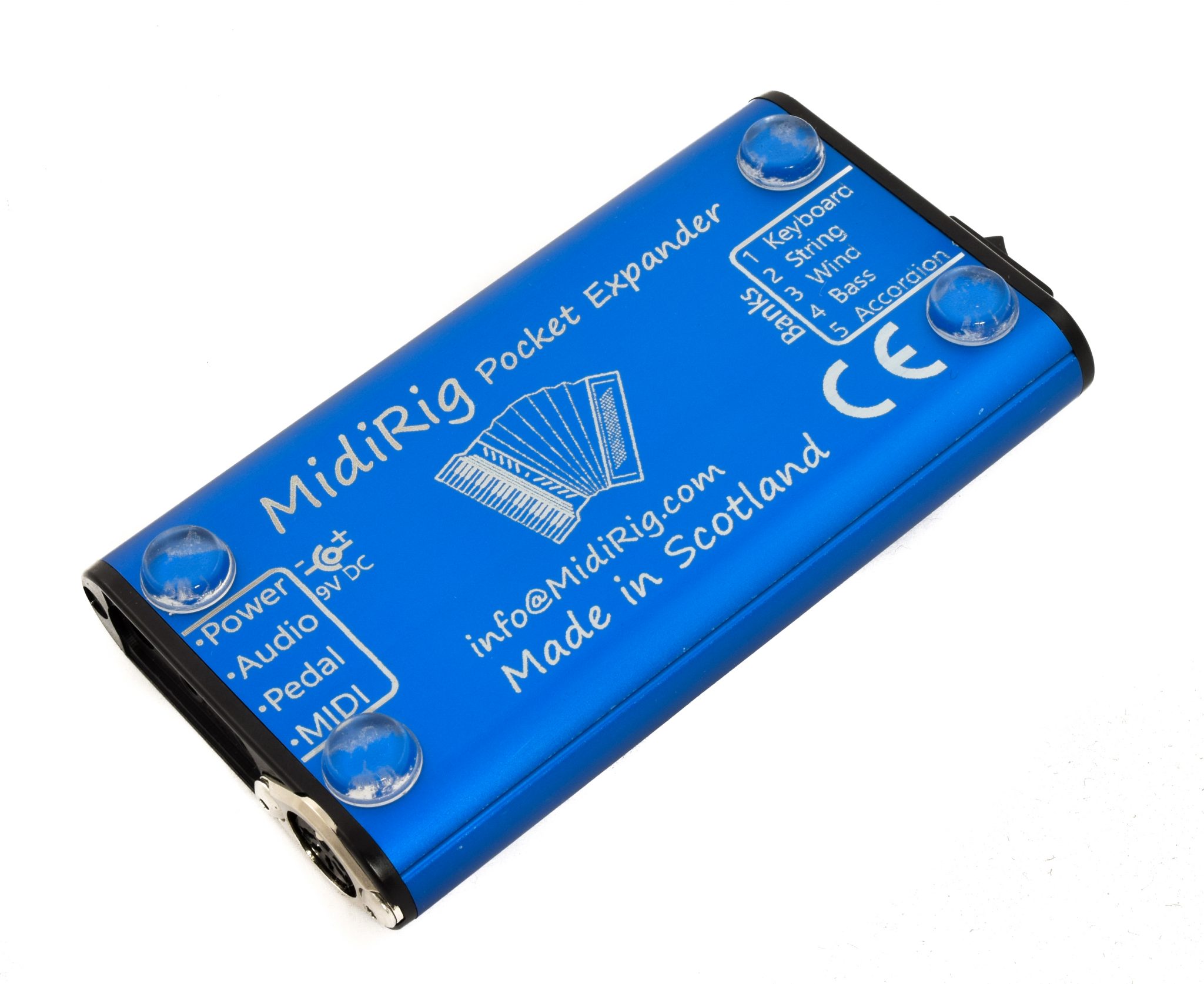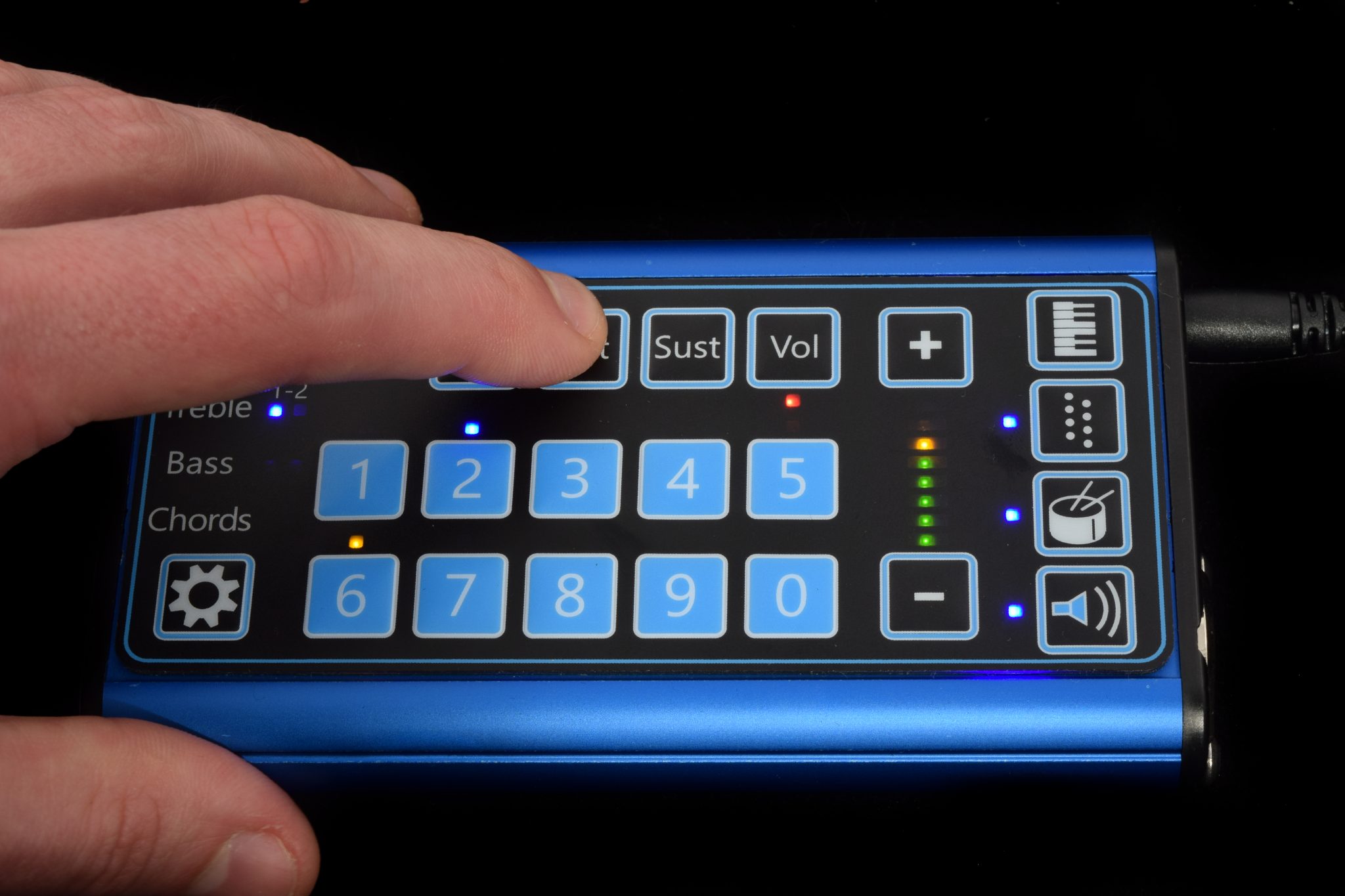 Presets available easily
Designed for simple operation whilst playing on stage or in the home.  Easy access to 10 favourite presets directly on startup using the blue buttons.  All parts can be modified and effects added before saving to any of the presets.
Build your presets
Allowing 2 instrument sounds per part (treble, bass & chords) gives great sound versatility and combinations. Adding effects and relative volumes allows endless possibilities for making the sound combination you need.
What's in the box
The MidiRig Pocket Sound Module is supplied in a clamshell case for protection.  Included with the module are:
Power supply (available for any region)
Adapter cable (3.5mm Jack to 6.35mm Jack)
Instruction manual
Instrument list
Clamshell case
Accessories
The MidiRig Pocket Sound Module is supplied with everything most players will need, but available by request are:
Switching pedal (used to cycle through your presets)
Volume pedal (vary the overall volume)
Splitter cable (allows Bass / Treble to be separated on output)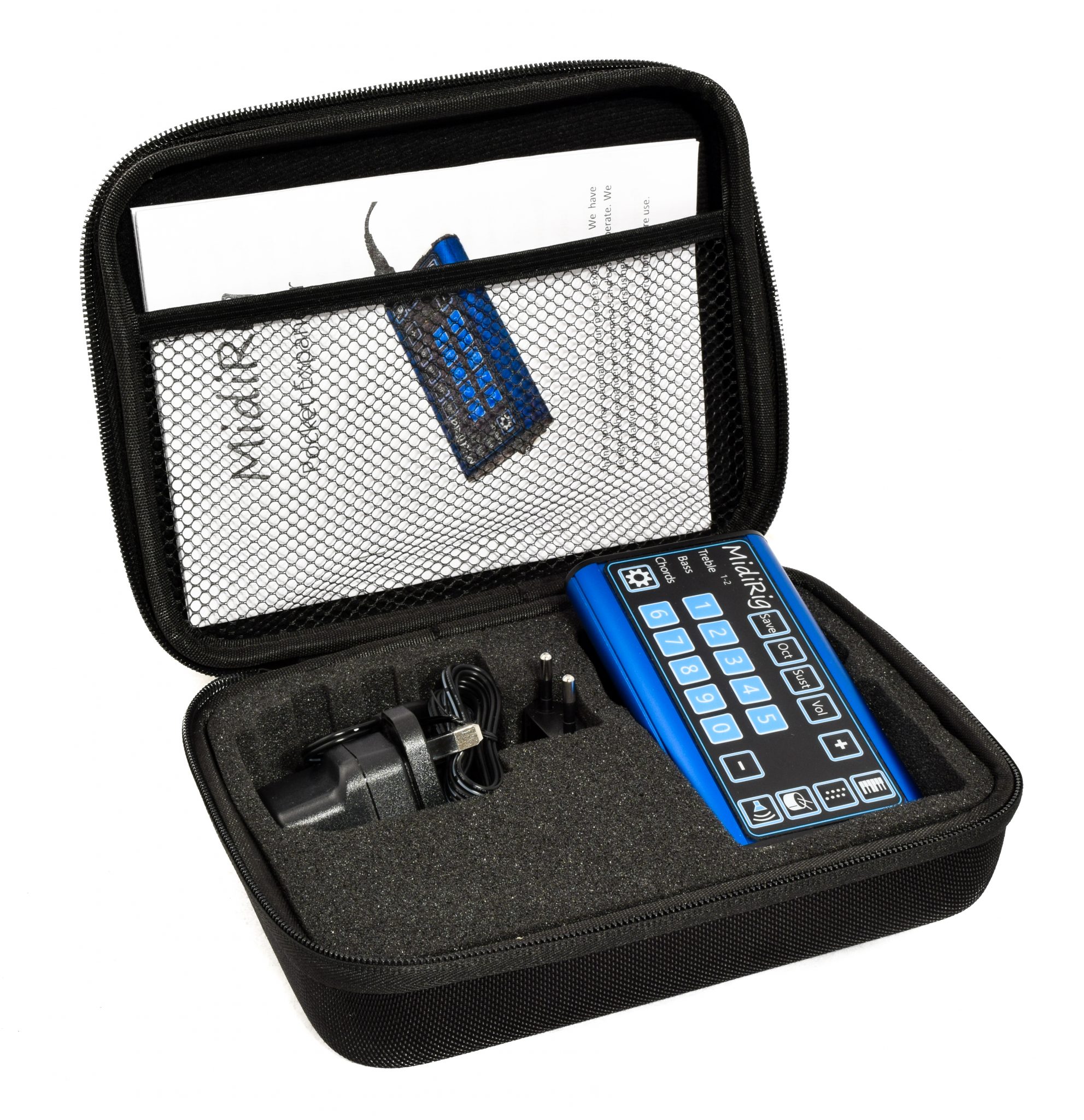 Specifications
10 presets pre-programmed with demo settings all can be overwritten
50 sounds in 5 banks of 10 instruments: Keyboard, String, Wind, Bass, Accordion
Up to 2 instruments per part (Treble, Bass & Chords) with individual volume, sustain and octave controls
Standard 5 pin MIDI input socket
Audio out on 3.5mm jack or use the supplied adaptor for 6.35mm
Pedal input for preset switching in mid performance
9V power input using supplied adaptor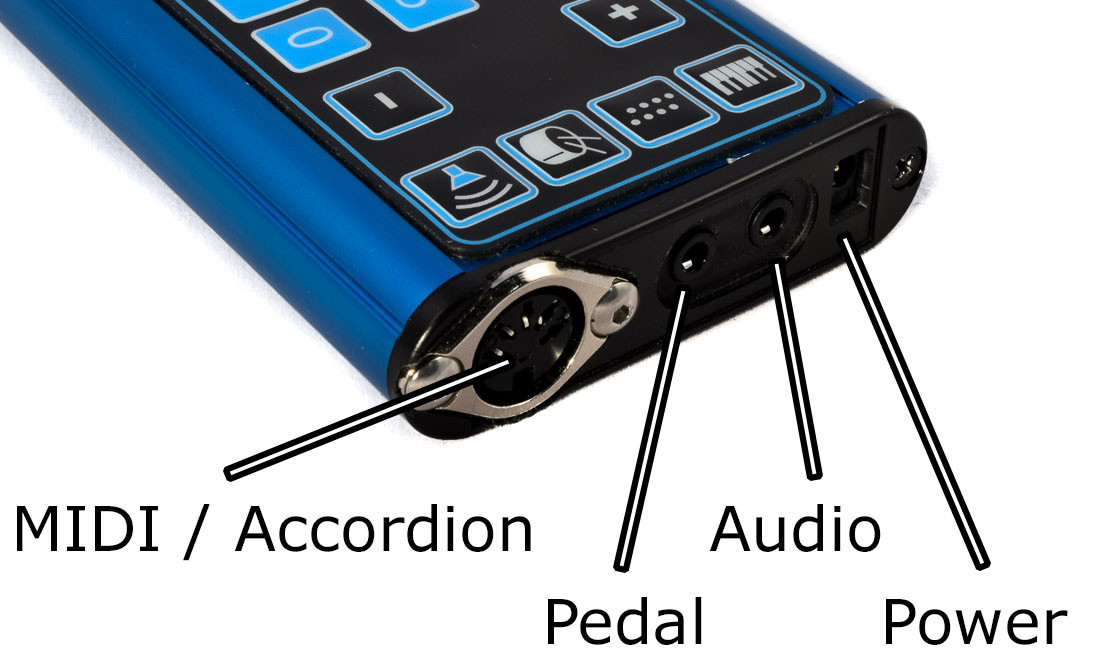 See how we make it
Designed and manufactured by us here in Scotland.
Using our own production machines in our workshop, we keep quality control high.
Ask a Question
Please feel free to ask a question about this product